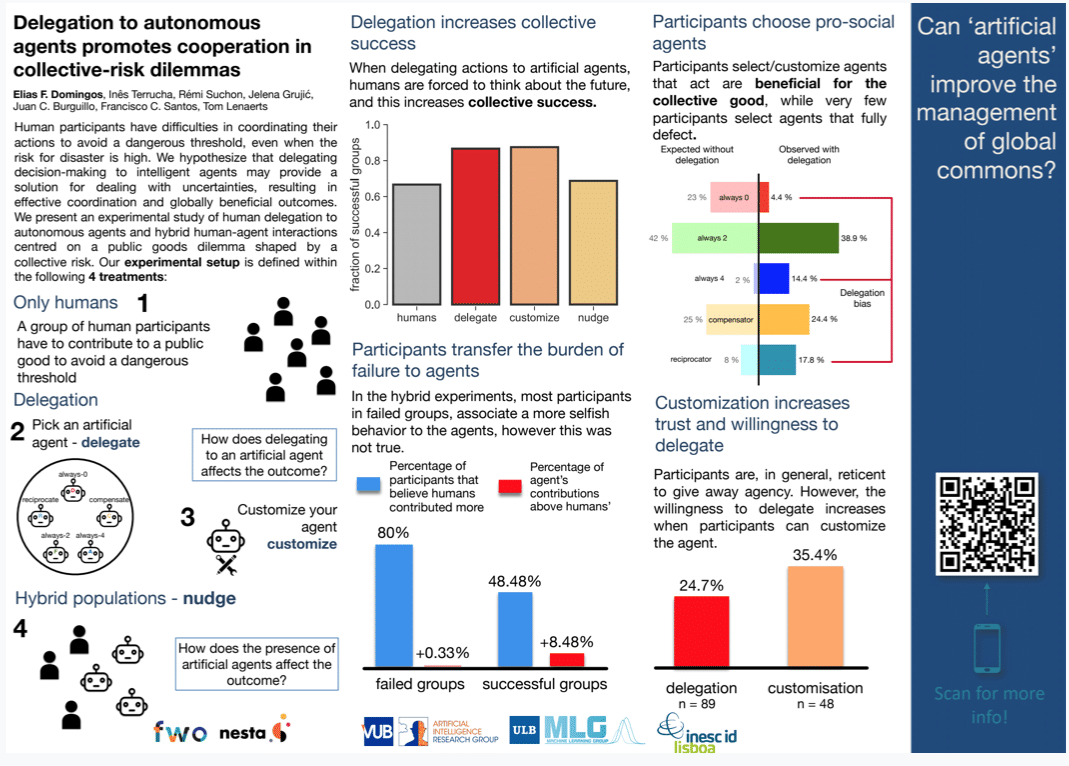 10 Feb

MLG/AI-lab researcher obtains best poster award AI for behaviour change workshop

Elias Fernandez and co-authors were awarded the best poster award at the AAAI 2021 conference workshop on AI for Behavior Change. The poster was titled Delegation to autonomous agents promotes cooperation on collective-risk dilemmas. You can find the abstract below. This research is a collaboration with the VUB AI lab and GAIPS in Portugal, while being supported by a NESTA collective intelligence grant.

Abstract > Home assistant chat-bots, self-driving cars, drones or automated negotiations are some of the several examples of autonomous (artificial) agents that have pervaded our society. These agents enable the automation of multiple tasks, saving time and (human) effort. However, their presence in social settings raises the need for a better understanding of their effect on social interactions and how they may be used to enhance cooperation towards the public good, instead of hindering it. To this end, we present an experimental study of human delegation to autonomous agents and hybrid human-agent interactions centered on a public goods dilemma shaped by a collective risk. Our aim to understand experimentally whether the presence of autonomous agents has a positive or negative impact on social behavior, fairness and cooperation in such a dilemma. Our results show that cooperation increases when participants delegate their actions to an artificial agent that plays on their behalf. Yet, this positive effect is reduced when humans interact in hybrid human-agent groups. Finally, we show that humans are biased towards agent behavior, assuming that they will contribute less to the collective effort.